6.1. Chaplains Uniform
The Royal Navy wears a number of different uniforms depending on the context.
Each of these are given a number and generally progress from the very smartest (1A) down through more 'working' rig (4) and so on.
The attached documents gives a comprehensive list with lots of pictures of the various stages of Naval Uniform
It is helpful as a Chaplain to be able to tell these apart and the following pages detail the different uniforms and Chaplains equivalent
6.1.1. No 1 Dress - Ecclesiastical and Formal occasions
This is worn on ceremonial occasions including Special Visits, Divisions, Parades and Acts of Worship.
The usual clerical wear for this set of uniform (1A, 1B, 1C) is respective ecclesiastical wear.
For Anglican ministers and Lay Ministers this is our Choir Habit (Cassock, Surplice and Hood) as usually worn with the addition of the large Chaplaincy Badge on the left breast of the preaching scarf.
For non-Anglican chaplains no 1 uniform is your equivalent 'best' ecclesiastical dress whatever that is for your denomination.
We would usually wear this at Divisions or when leading acts of worship such as on Remembrance Sunday, or another formal occasion.
Medals when worn hang above or below the badge.

When Medals are not worn, medal ribbons are worn above the badge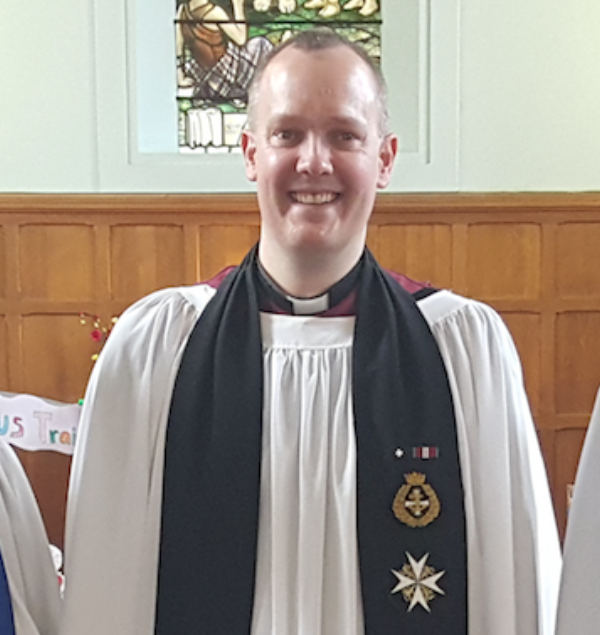 6.1.2. No 1 Dress - Other Occasions
Chaplains are also entitled to wear the regular officers No 1 'Suit'.
As this is rarely worn by us (when No 1s are worn we are almost always in Ecclesiastical Dress) the Corps does not provide these but they are purchasable from Naval Tailors at personal expense.
Our attire is a standard officers jacket , with no rank braid, but with the small chaplains badge on the top left shoulder.
Medals are worn either as a medal ribbon or hanging from loops.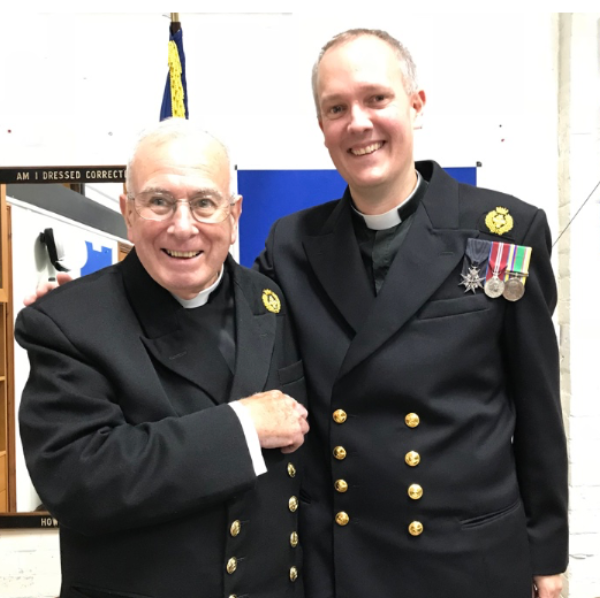 6.1.3. No 2 Dress - Dinners / Mess Dress
This is worn mainly for Mess Dinners and is the Navy version of a Black Tie Dinner Jacket. There are slight variations depending on the time of day and formality between Mess Dress (2A) and Mess Undress (2B). The small chaplains badge is again on the top left shoulder and minature medals hang below.
This uniform is not provided by the Corps but may be privately purchased. They are beautiful and verey smart, but are expensive for what is essentially a very nice drinking suit.
Some units have a good culture of formal dining - part of the RNs culture of working and playing hard.
In the absence of number 2 Dress Black Tie is the usual substitute, usually worn with a cummerbund and minature medals on the left lapel.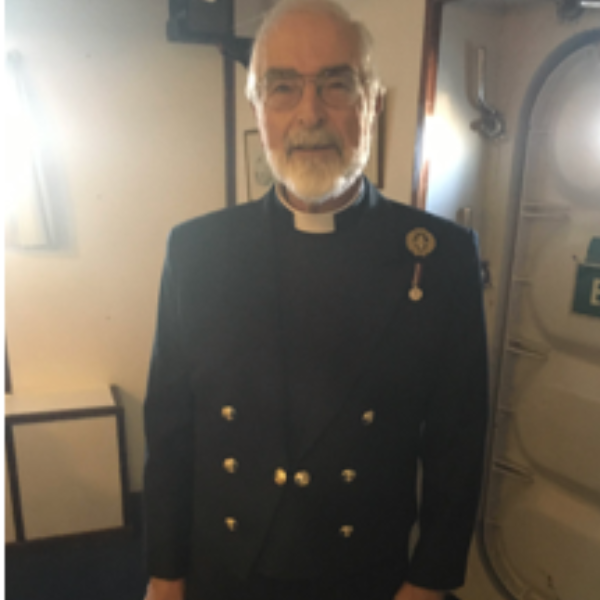 6.1.4. No 3 Dress - General Working Rig
No 3 dress is most commonly known as working rig and there are three main types.
3A is long sleeved shirt and tie,
3B is short sleeved shirt and no tie.
3C long sleeved shirt and tie or clerical shirt and collar, and wooly pullover.
No 3 Dress is the one you will most commonly wear in the Unit 3B in the warmer months and 3C in the colder.
The Unit CO will normally let you know what Rig the rest of the staff will be in.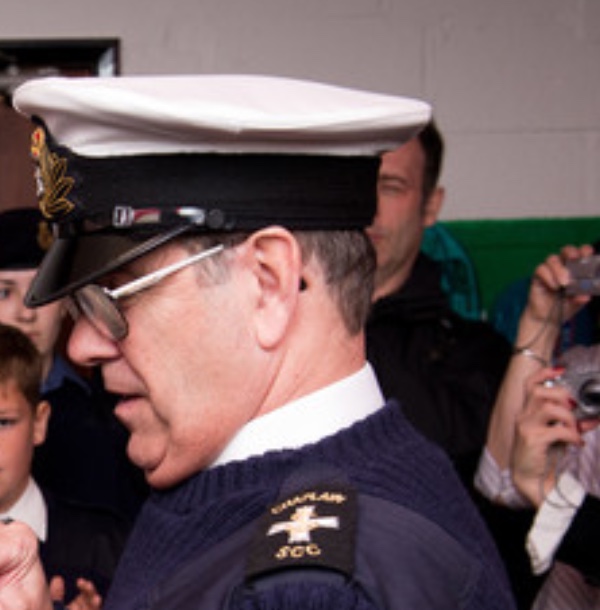 6.1.5. No 4 Dress - Daily Rig
No 4 Dress is the most practical of the uniforms and is rarely worn by us apart from some specific 'messy' purposes.
It is though a common uniform to be seen worn regularly by cadets and also around Naval bases.
The Navy has just been through a uniform change as illustrated - from the Old Style, which the Sea Cadets still wear and have, to the New Style. The changes will eventually work through to the Corps but as usual this will take a few years....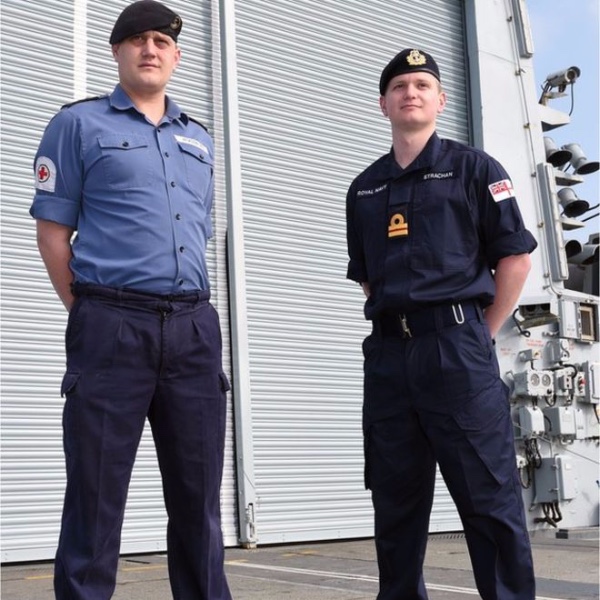 6.1.6. Clerical Dress and Lay Equivalent
As per RN Chaplaincy, Chaplains who are ordained are also deemed to be 'in uniform' when wearing their usual daily 'clerical' wear.
The usual standard is dark suit and dark clerical shirt but a certain flexibility is allowed for those of us in parish ministry who either don't usually wear such attire, or are coming straight from something else. The best thing to avoid though is 'pirate rig' which is some combination of uniform and non-uniform.
Lay chaplains may equally attach if they can find one a Chaplains lapel badge to their suit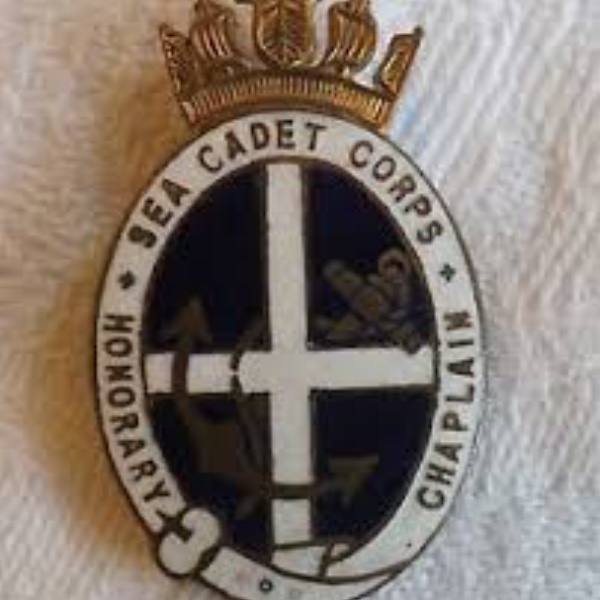 6.1.7. MTP and Duty with Royal Marines
If you unit had a marine Cadet Detachment and you may be going out on exercise with them it may be useful to get hold of a set of the Camouflage uniform that the Royal Marines wear.
This is know as MTP (Multi-Terrain Pattern) and is worn as usual with your chaplains beret and rank slides attached to the uniform.
At present we only have the regular blue slides - it is possible to get green slides made but they need to have SCC below the Chaplains logo.
All the details for how to wear MTP are to be found in the Sea Cadet dress regulations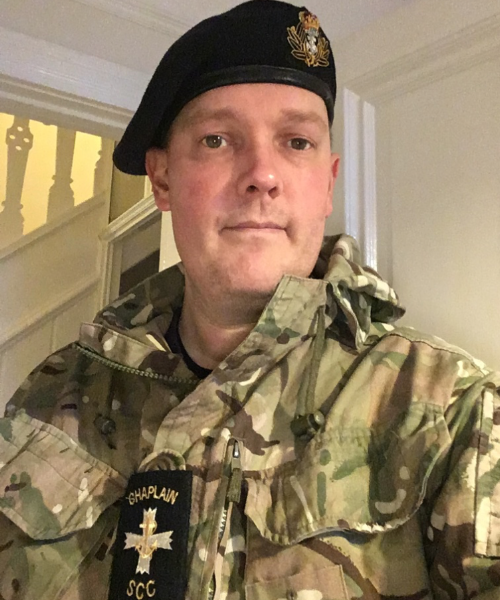 6.1.8. Wet Weather Gear
A very useful item to acquire is one of the new Sea Cadet Waterproofs which is worn over the top of 3s.
You will get issued with a basic one but the new Gore Tex ones are available for a reasonable price through the Sea Cadet Shop which you can find here.
This is a useful garment both for the usual UK weather, but also for doing things near water which you may occasionally do.... It has a place on the shoulders for rank slides.

It also needs the 'Sea Cadets' velcro sign to distinguish it from the RN version which is otherwise.
If you buy through the shop one will be supplied.
If through ebay or elsewhere you will have to get one seprately.
There are also MTP wet weather waterproofs.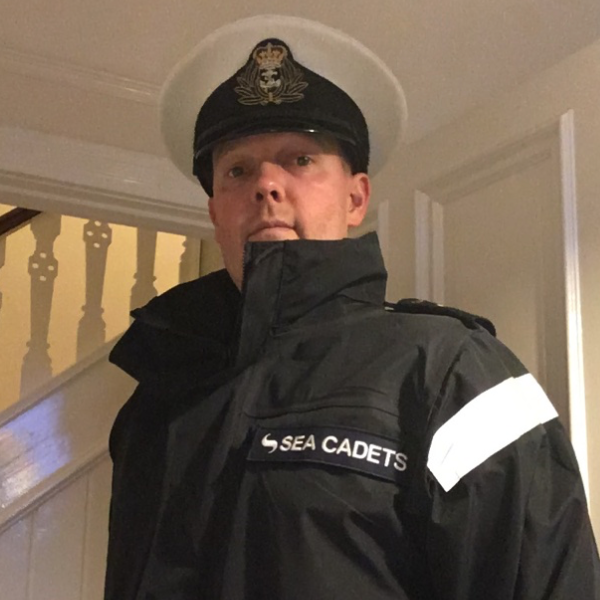 6.1.9. Rank Slides / Epaulettes
Our role as chaplains is indicated by our rank slides worn on our shirts, jumpers and coats.
You will be issued with a set but it is always helpful to get some more as it stops having to regularly change them from one set of clothing to another.
There are also 'extra smart' versions available to go onto Shirts.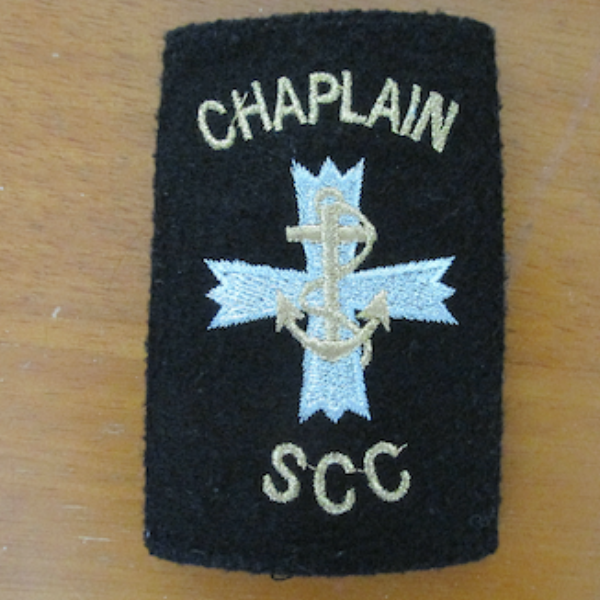 6.1.10. Headdress
When is uniform the usual headdress the standard Royal navy Officers Cap with our special chaplains badge, illustrated.
This badge is similar to a standard officers badge, except the gold is not filled in. The female equivalent is what is called a 'Tricorn' Hat.
This badge is also exactly the same as a standard Royal Navy Chaplains badge, worth remembering for both the salutes you may receive and the 'good morning Bish' that you may hear come your way when on board a Naval establishment.
You will also be issued with a Beret which you may wear when with Marine cadets. It has a similar (smaller) RN Chaplains badge.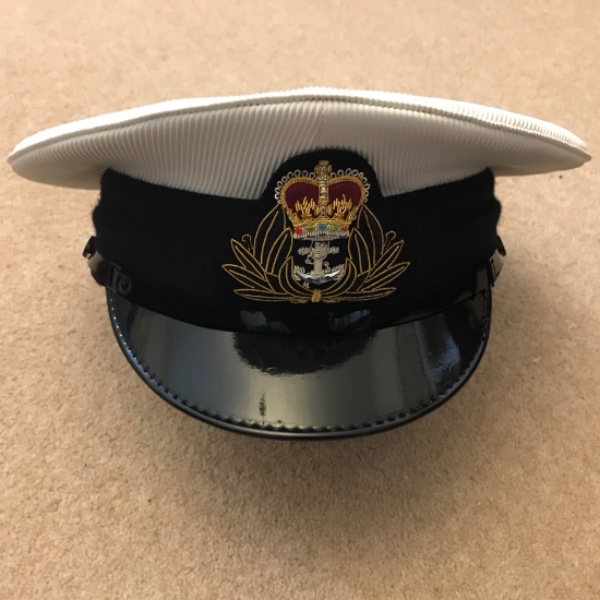 6.1.11. ID Badges
6.1.11.1. Role Badges
Many units will have pin on badges for members of staff and the unit will either obtain one for you to match theirs or you can send off to get one for a few pounds from recognition express.
6.1.11.2. Official ID cards
You will be issued with a rudimentary ID card which will get you into most Sea Cadet units. If you go on as a chaplain we would encourage you to get a standard MOD identification form which will also make life easier when on RN bases and establishments. Your unit will be able to help you get one of these, although be warned it takes time to get one so don't apply the week before you need it. These are also helpful for obtaining forces discount and/or a defence discount card.